Chicken CSA Share
What is a CSA? CSA stands for Community Supported Agriculture, and is a model designed for and by small farms. Chicory Creek Farm works with the seasons, raising chickens during the warmest months to maximize the forage available for the animals. That means the chicken is processed through the summer and fall. By signing up for a CSA share at the beginning of spring, the farmer knows how many animals to raise and who will be buying the products!
We also sell products individually year-round. Check out our price list page for prices and the Pork CSA Share page.
CHICKEN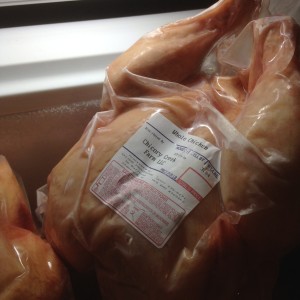 All of our chicken is in vacuumed-sealed packages and processed at a NYS-5A inspected facility.
Large Chicken Share, $175
5 whole chickens
5 packages of boneless, skinless chicken breast
5 packages of leg quarters
5 packages of Buffalo-style wings
Small Chicken Share, $70
2 whole chickens
2 packages of boneless, skinless chicken breast
2 packages of leg quarters
2 packages of Buffalo-style wings
Tiny Chicken Share, $35
1 whole chicken
1 package of boneless, skinless chicken breast
1 package of leg quarters
1 package of Buffalo-style wings
---